Premier VetCare originally opened it's doors for business in a 2400 sq ft lease space on Cedar Grove Road, in Smyrna TN. As our veterinary hospital quickly grew, it was apparent the space was not going to be large enough for long. In 2010, we started the process of relocating to a larger facility. Construction began in the Spring of 2011, and we opened the doors to our new 6000+ sq ft veterinary hospital in the Fall of 2011.
---
Free WiFi
Our facility is State of the Art in technology. We understand the importance for many of our clients to stay connected. We offer our guest WiFi connection, ask any staff member for the current password during your visit if needed.
---
The Front Desk & Lobby
As you enter our facility you will be greeted by our friendly front desk staff. They will get your pet checked into the hospital, as well as greet you as you complete your visit with us. The front desk is equipped with three check in/out stations.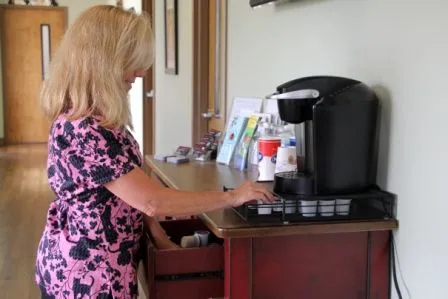 ---
10 State of the Art Examination Rooms

Exam Room 1
Exam Room 2
Each of our examination rooms are equipped with computers, and all the supplies are stored in our cabinets for the safety of your pets and children. Each exam room is decorated with a unique, custom piece of art work created by Stacey, Dr Hatcher's wife. As a paperless practice, all of your pets medical history is recorded in our practice management system. From here, we can go over testing results, radiography, client education pictures, videos, and much more. If it is more convenient for you our staff can even check you out from within the exam room
---
Consultation Room
Our consultation room is designed to be a little more comfortable. Here you can visit with your hospitalized pet, wait for test results, or discuss your pets health care needs. This room is also in a quieter area of the facility, making it an ideal place to say our last goodbyes to our beloved pets when that time comes.
---
In House Laboratory
Our in state of the art in-house laboratory allows us to perform many common laboratory tests. Test like heartworm, fecal examinations, urinalysis, cytology, routine blood work and blood counts all can be performed while you wait. Our in-house laboratory is supported by the largest veterinary reference laboratory to meet the more complicated testing needs of your pets.
---
Surgery Suite
Our surgery suite is large and has 2 surgical tables. It is equipped with the latest equipment such as; wireless patient monitoring, LASER, electrocautery, isoflurane inhalant anesthesia, patient warming devices, and a multitude of surgical instruments to aid in our general, advanced soft tissue procedures, and orthopedic surgeries.
The surgery suite is equipped with a wireless monitor that allows us to store the patient's vital monitoring chart in our medical records for our longer procedures.

Our surgical LASER helps in many advanced soft tissue procedures. We are the most experienced LASER surgeons in Rutherford County with over 18 years of experience.
---
Treatment Area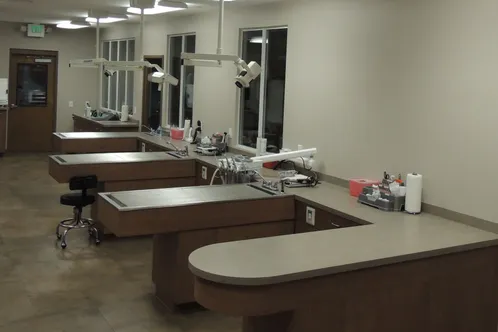 4 Treatment Tables from front to back we have a Treatments Table, then 3 wet tables. The first two wet tables are used for our dental cases, and the third is our surgical prep table. The windows in treatment area look into the Surgery Room and Doctor's Office.
---
Radiology
Our radiology suite is equipped with a High Definition DR radiography table. Digital radiographs offer us more detail, and we can manipulate the image to allow us to find changes once missed by traditional radiograph film.
Our digital radiographs are imported into your pets record, where they are stored. Once in the system, we can review them with you in any of our examination or consultation rooms. The images can also be e-mailed, or even texted to you for your review with family members, or if needed, with a specialist. In addition, we are also able to submit radiographs to board certified radiologists to help in the diagnosis of your pets health concerns.

---
Recovery & Kennels
We have 5 elevated runs. These are used for pets that may have diarrhea and vomiting. The elevated floors help to keep the pet cleaner and dry.
We also installed 5 state of the art glass kennel systems. The glass helps with noise, and makes it easier to clean and disinfect.